Junior Hockey
Fees for Junior hockey
The following fees are for the 2018 season:
Youth (Riverside Reach sponsored by Varsity College)
12 – 15
R1 680
Mini
7 – 11
R1 250
Tots
2 – 6
R600
PAYMENT TERMS
Payments are to be made within 7 days from date of registration.
Should a member require payment terms or wish to pay by means of a credit card – please contact hockey@riversidesports.co.za
DISCOUNTS
These fees are payable for the entire season and include:
Turf hire,
Coaching equipment and aids,
Coaching structures as set up by international coaches, Top coaching from some of the best young coaches in KwaZulu-Natal and around the world,
Match and / or festival fees
Shirt to wear to training,
Riverside Sports membership (junior until 15 years old, senior until 16 years old),
Match shirts will be provided, club socks to be purchased,
Dates for junior Hockey
Youth Dates:
Feb: 5th, 12th, 19th & 26th
March: 5th, 12th, 19th & 26th
April: 16th & 23rd
May: Riverside Reach (Sponsored by Varsity College)
June: Riverside Reach 5's (Sponsored by Varsity College)
Mini Dates:
OPEN WEEKEND, Mini Hockey Friday 23rd March 2018, 5 – 7pm (u9 – u11 Boys and Girls)

Sunday 25th March 2018, 2 – 4pm (u9 – u11 Boys and Girls)
Mini HOCKEY SESSIONS FOR 2018
April 13th & 20th (no mini on the 27th April as it's a holiday)
May 4th, 11th, 16th & 25th
June 1st, 8th, 15th & 22nd (16th June is our Spur Riverside mini festival)
July 20th & 27th
August 3rd, 10th, 17th, 24th & 31st (last session of each term is parents vs children)
17 x mini hockey sessions (excluding the open weekend)
Training Times:
Little Tots: 5-6pm
Big Tots: 5-6pm
U7 B&G: 5-6.15
U9 B&G: 5-6.16
U11 B&G: 6.15-7.30
Youth: 6.15-7.40
BANKING DETAILS:
Riverside Hockey Club
Nedbank Umhlanga
Acc. 1353 049 663 Branch Code. 135 329
Ref. Members Name*
Email proof of payment to hockey@riversidesports.co.za
No rebates are considered for members who join midway through the season.
Riverside Sports Membership and Parking on Friday nights
Mini Hockey Tournament Dates 2018:
| DATE | AGE GROUPS | HOST | VENUE |
| --- | --- | --- | --- |
| Sunday 13 May 2018 | U9, U1, U11 | Kearsney | Kearsney Boys College |
| Sunday 27 May 2018 | U7, U9, U10, U11 | Umhlali | Crawford North Coast |
| Saturday 16 June 2018 | U7, U9, U10, U11, U13 | Riverside | Riverside Sports |
| Sunday 29 July 2018 | U9, U10, U11 | Glenwood | Queensmead or 3 Schools – TBC |
| Sunday 19 August 2018 | U7, U9, U10, U11 | Westville Gryphons | Westville Girls High Astro |
| Sunday 2 September | U7, U9, U10, U11 | Crusaders | Northwood Boys Astro |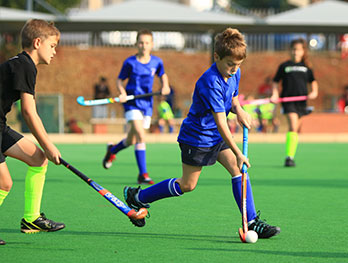 History of Junior Hockey at Riverside
The Mini Hockey section of Riverside Hockey Club (RHC) commenced in 1992 when the club was still known as Durban North Hockey Club (DNHC). From small beginnings, the section has grown considerably over the years and, during 2015, over 400 members between the ages of 2 and 16 registered for the Riverside hockey junior programme.
2006 saw RHC's junior section's first full season on artificial turf, making it the only junior section in Durban at the time to have access to such a world-class facility. With the laying of the second turf from April 2011 onwards the programme is the only one in South Africa currently using two turfs which ensures extra space for members to learn their skills.
During 2008, RHC launched Youth Hockey to cater for U14′s and U16′s and this initiative has been gradually expanded to the current programme which caters for the 12 to 15 years old age group with members being major beneficiaries of the Riverside Reach programme (sponsored by Varsity College) which was initiated by Riverside in 2013.
An exciting development during 2011 was the launch of the Hockey Tots programme which caters for the basic beginner sports skills for 2 to 4 year olds as well an incorporating what has traditionally been our under 5′s and 6′s into the introductory levels of hockey.
What is Tots, Mini and Youth?
Both boys and girls are accommodated in all age groups.
Tots Hockey commences at 2 years old (born in 2014) with what is primarily a generic ball skills programme. The Tots groups are split into either Little Tots (2 to 4 years old) or Big Tots (5 and 6 years).
Note: Those turning 2,3,4, 5 or 6 during 2016 will train as Tots and generally are not encouraged to play in festivals which only commence at under 8 level.
Mini Hockey commences when you are Under 7 (born in 2008) with an age appropriate hockey skills programme. the oldest age group being Under 11 (Born in 2005 and 2006). Both boys and girls are accommodated.
Note: Those turning 6 or 7 during 2016 will train and play as Under 7 in festivals and those turning 8 or 9 during 2016 will train and play as Under 9. Those turning 10 or 11 during 2016 will train and play as Under 11.
Youth Hockey commences when you are Under 13 through to Under 15 (born between 2001 and 2004).
Note: Those turning 12 and 13 during this new year will train and play as Under 13 and those turning 14 and 15 during 2016 will train and play as Under 15. This under 15 age group is eligible to play in the Riverside HC senior teams in KZN Senior leagues once assessed by the junior coaching staff.
Youth vs Senior hockey – what is the selection process & what are the criteria?
Why join Riverside Hockey's programme?
Riverside Hockey believes in the potential of ALL young players and their ability to grow into meaningful club members at all levels of the game. We do not grade teams until senior hockey level.
Attention to each individual's technical, tactical, mental and physical skills.
Professional, state-of-the-art facilities (water-based artificial turf training) – only club in South Africa with two artificial turfs for junior hockey.
Play with other dedicated players from the region who are at different schools.
Target of 1 appropriately qualified and experienced coach per 8 players, training in small groups and individual attention.
Benefit from Riverside's ongoing association with top, internationally-respected clubs and associations, with session content influenced by the latest international trends of play and their approach to development of players.
Talented, experienced and qualified coaches from the region who are closely monitored for attention to detail.
Riverside Hockey Club is synonymous with top hockey in Durban, KZN and South Africa having delveoped and grown many provincial and international players, some of whom currently play in our men's and women's 1st teams and are involved in Riverside's junior programme as coaches.
It is fun and challenging to participate in the Riverside Hockey programme!
Reach programme which involves exposure to match techniques and tactics, which is unique to Riverside's junior offering.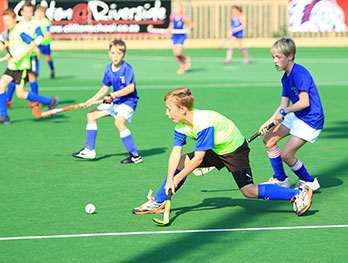 Coaching
Riverside Hockey is excited to confirm the following senior coaching staff for the 2016 programme:
Head Coach: Junior Hockey – Mark Collett
Head Coach: Youth Hockey – Calvin 'Chicken' Price (current Riverside HC 1st team and KZN Raiders player – indoor and outdoor, KZN under 16 coach)
Head Coach: Mini Hockey – Caryn Springate formerly Bentley (former SA player capped 99 times), has coached and developed mini hockey programmes in South Africa, Spain and the UK, former coach of league winning Irish Premier league team)
The primary focus of mini hockey is the technical development of each individual player to their maximum potential, within a fun, non-pressurised environment. Player development takes precedence over results in matches, festivals and tournaments and, whilst there is a strong focus on fun and playing with your friends, this is underpinned by an ongoing quest to improve coaches and coaching in line with international best practice, thereby ensuring that the necessary levels of intensity are achieved in training.
The focus of youth hockey is also on the technical individual development of players, although there is a strong additional theme of tactical awareness introduced into these sessions primarily through the Riverside Reach programme sponsored by Varsity College.
Riverside Hockey provides regular opportunities for all coaches who coach Junior Hockey to participate in training courses which obtain national coaching grade certificates. This requirement is in addition to ongoing practical sessions with the coaching supervisory staff within the club.
Working Group
The working group of parents is responsible for making the strategic decisions to ensure that the Riverside HC Junior Section and the Hockey @ Riverside programme is properly governed and that hockey within the junior ranks continues to thrive at Riverside.
This working group has representation on the main Riverside Hockey Club committee and strives to develop junior hockey within the guidelines of the club's overall strategic vision.
The Working Group is always looking for assistance and anyone who is interested in assisting should please let one of the members of the Working Group know.
Sponsorship
In 2014 Spur became a major sponsor of the Riverside Hockey programme including the annual Spur Riverside Festival, which is hosted by Riverside and one of the country's biggest mini hockey festivals hosting almost 1000 participants.
There are other opportunities to sponsor different aspects of the programme and the club and if you are interested in further details, please mail hockey@riversidesports.co.za

Coaching Sessions
The structure of the season will be broken into Friday evening (Mini) and Monday evening (Youth) coaching sessions. Festivals, will include matches against other clubs. Dates and times of all training sessions and competitions will be advised.
Each session will consist of a structured programme and, in order to maximise the quality of the coaching, an optimum player-to-coach ratio will be maintained.